Welcome to Down to Earth Landscaping!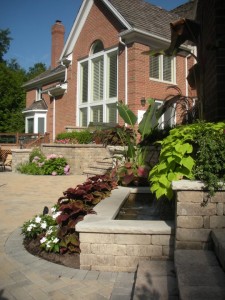 We are a full service landscaping company specializing in both residential and commercial landscaping.  We take pride in our work by concentrating on attention to detail and proper execution of all phases of the project.  We focus on good communication…both before the project begins and throughout the entire process.
Discover how extraordinary landscaping will surround your home with natural, inspiring beauty that not only enhances your quality of life, but adds significantly to your home's value.
Customer Testimonial:
When my wife and I wanted to have a patio built, we did whatever one does and gets three bids and ideas from three different companies.  In doing so we only found DTE to be the company that listened to what we really wanted and I always tell my friends and those who ask about our patio, that although the other companies listened, Chris M was the only one who heard me. He delivered every element my whole family was looking for and more.
They told me the project would take approximately 60 days to complete. We were under the gun as our first daughter was graduating high school and we wanted her graduation party to be in our backyard (projecting about 250 people).  DTE was finished in plenty of time for us to have the party and rave reviews of what turned out to be a master piece of a patio.  All the workers on the project as well as Chris were all gentlemen, clean expeditious and extremely talented. 
We have enjoyed every aspect of our patio, from our wonderful pizza oven to our warm a cozy fireplace, everything is awesome.  We have had many cars and people stop by and ask to see our patio.  I have been asked who designed it and built it and have recommended DTE to all of my friends and neighbors, many of which have already used DTE, and I will continue to recommend such a highly professional company.
– Gary Popovics | OH